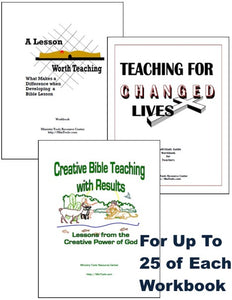 Teacher Training Workbooks Download Bundle for Group of 25
Some teachers training topics relate to all Bible teachers. Train your group of Sunday School or other teachers using these workbooks.
Bible teachers of grade school, youth, and adult classes all could use help with lesson development, creativity, and teaching for changed lives. These workbooks are bundled as a special because they can be used with teachers of all these age groups.
 
You can distribute the workbooks to all your teachers for self-study or meet as a group to go through them together. As a group you work through each session, reading the content and pulling together your thoughts and responses. In this way teachers learn from one another, adding to the value of using the workbooks.
 
The bundle to print just one of each workbook costs $25.97 so you can see that this truly is quite a savings for a group of 25.
Workbooks Included:
This zip file includes the following 3 workbooks. Click on a title to learn more about that workbook. Be sure to come back to this page if you wish to order the bundle for up to 25 copies. Purchasing the individual workbooks will not be calculated at this special price.
A Lesson Worth Teaching

Creative Bible Teaching with Results

Teaching for Changed Lives
Copying Permissions:
You have permission to reproduce

 

up to 25 copies

 

of each workbook for use with your teachers. This material may not, however, be freely distributed beyond your sphere of ministry.
 
You may not put this information in any format that you would sell.
 
You may not copy this resource in whole or in part onto a web site or into any other digital format.
If you need more than 25 copies of these workbooks, you will need to order a quantity that fits your needs. For example, if you need 40 copies, then changing the quantity to 2 in your shopping cart would allow you to print that many plus ten more you can use in the future possibly for new teachers.
About the Download:
This resource is available as a download in a zip file with PDFs inside it.
Files must be extracted from the zip file to use them after saving the download to your computer. Many computers will allow you to do that simply by right clicking on the saved file and then choosing 'Extract All'. Be sure to always use the unzipped folder.

Adobe Reader is required to open the PDFs.
PLEASE NOTE: Due to the nature of a download, the order cannot be refunded once it is placed.