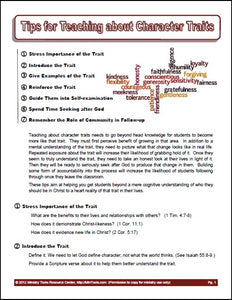 Tips for Teaching about Character Traits Worksheet Download
How do we teach about the development of Christ-like character traits without making it a result of self-effort?

This reproducible teacher training worksheet emphasizes that the development of Christ-like character traits needs to be taught as a heart issue that God, through His Spirit builds into us as we trust Him, yield to Him, learn of Him, line up with Him, and grow in Him. Here are seven tips that will help you take people beyond head knowledge and behavioral modification, self-improvement, or self-effort. The worksheet includes a template for constructing a lesson teaching a character trait.
Specifications: 8 1/2 x 11 PDF with 4 pages, download only
Copying Permissions:
You have permission to reproduce as many copies of this resource as needed for yourself or for current and future teachers. It may not, however, be freely distributed beyond your sphere of ministry.
 
You may not put this information in any format that you would sell.
 
You may not copy this resource in whole or in part onto a web site or into any other digital format.
About the Download:
This resource is only available as a PDF download.
Adobe Reader is required to open the resource.
PLEASE NOTE: Due to the nature of a download, the order cannot be refunded once it is placed.