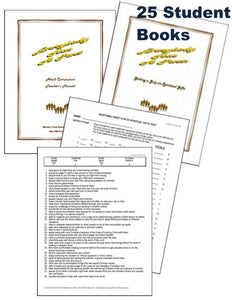 The MAX Pak - Spiritual Gifts Resource Download with 25 Student Books
Help adults in your church understand God's design for the Body of Christ and how they fit into it using their spiritual gifts.
Ephesians 4:16 says, "From him (Jesus) the whole body, joined and held together by every supporting ligament, grows and builds itself up in love, as each part does its work."
Everybody has a part. Use this curriculum to help grow your church by maximizing involvement as people identify their spiritual gifts and learn how important it is to do their part.
The MAX Pak includes:
  (Click on titles to learn more about each of the items.)
-- $67.96 if all items are purchased separately.
About the Download:
This resource is available as a download in a zip file with PDFs inside it.
Files must be extracted from the zip file to use them after saving the download to your computer. Many computers will allow you to do that simply by right clicking on the saved file and then choosing 'Extract All'. Be sure to always use the unzipped folder.
Adobe Reader is required to open the PDFs.
PLEASE NOTE: Due to the nature of a download, the order cannot be refunded once it is placed.