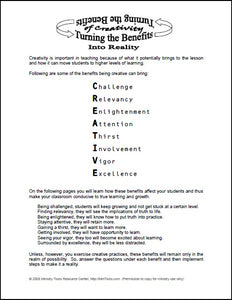 Turning the Benefits of Creativity into Reality Worksheet Download
Does putting more creativity in your Bible teaching sound like too much effort?

If so, use this five page reproducible teacher training worksheet to reflect on the benefits of creative Bible teaching. Learn how these benefits affect your students, potentially moving them to higher levels of learning, thus making your classroom more conducive to true learning and growth. Since the benefits will only turn into reality if you exercise creative practices, the worksheet will guide you in considering steps you can take to improve in your teaching.
Copying Permissions:
You have permission to reproduce as many copies of this resource as needed for yourself or for current and future teachers. It may not, however, be freely distributed beyond your sphere of ministry.
 
You may not put this information in any format that you would sell.
 
You may not copy this resource in whole or in part onto a web site or into any other digital format.
About the Download:
This resource is only available as a PDF download.
Adobe Reader is required to open the resource.
PLEASE NOTE: Due to the nature of a download, the order cannot be refunded once it is placed.