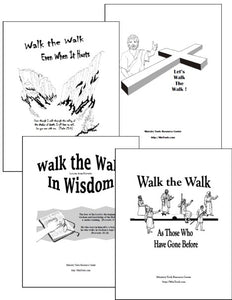 Walk the Walk Download Set of Devotional Bible Study Guides
What does it mean for followers of Jesus Christ to walk with God, or to walk the walk?

Order the reproducible Walk the Walk Download Set of four devotionals to look at Scripture about walking the walk, to study some examples of those referred to in Scripture as people who walked with God, and how to walk the walk in wisdom and even when it hurts. Scroll down to learn about each devotional in the set.
Order this set and save almost the cost of one of the books. If purchased separately, these devotionals would cost $27.96.
These devotionals are reproducible so you may print a copy for your entire group. You will find 30 studies in each devotional with each devotion about a page in length (some two pages) containing Scripture passages to read and questions to help you reflect on God's Word. You will also find an input section to provide possible responses to the questions.
Devotionals Included:
The following devotionals are included in this set. Clicking on the titles below will take you to the page to learn about that particular devotional. You must, however, order from this page to get the special pricing so be sure to click your browser's back button to return.
Because the Bible repeatedly refers to our relationship with God as a walk, this 37 page devotional looks at Scripture that will help you grow closer to God as you learn how to walk with Him.
Walk the Walk as Those Gone Before
The Bible introduces us to real people living out their faith. This 39 page devotional guides you in learning from the examples of eight different people of whom Scripture states that they walked with or before God.
Walk the Walk Even When It Hurts
Nowhere in Scripture do we read that Christians will be exempt from pain and suffering. Rather, God's Word presents a realistic view of life -- you will have troubles (Jn. 16:33). This 41 page devotional uses Psalm 23 to show how it is possible to walk the walk even during the hard times when we look to the Shepherd of our souls to provide all that is needed to cross through the valleys of our lives.
According to Proverbs 28:26, "he who walks in wisdom is kept safe." In this 38 page devotional you will find 30 devotions that each focus in on a different Proverb pertaining to wisdom to help you learn what it means to walk in wisdom
Copying Permissions:
You have permission to reproduce as many copies of this resource as needed for yourself or for your group. It may not, however, be freely distributed beyond your sphere of ministry.
 
You may not put this information in any format that you would sell.
 
You may not copy this resource in whole or in part onto a web site or into any other digital format.
About the Download:
This resource is available as a download in a zip file with PDFs inside it.
Files must be extracted from the zip file to use them after saving the download to your computer. Many computers will allow you to do that simply by right clicking on the saved file and then choosing 'Extract All'. Be sure to always use the unzipped folder.

Adobe Reader is required to open the PDFs.
PLEASE NOTE: Due to the nature of a download, the order cannot be refunded once it is placed.