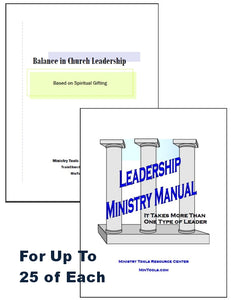 Balanced Church Leadership Bundle Download for Up to 25
Help you leadership team understand the need to work together to bring balance that leads to growth and health.
Using the Balanced Church Leadership Bundle, help your team grasp how the kind of leader they are by gifting affects not just their ministry responsibilities but also the Church as a whole. These resources can help your leaders understand their need to work together with leaders gifted differently than them to bring the kind of balance that reflects God's heart for people and does all to His glory while growing and advancing the cause of Christ.
A bundle for just one person costs $13.35 so you can see the great savings in ordering from this page for a group of up to 25.

Resources Included in the Bundle:

Both of the resources in this bundle look through the lens of the spiritual gifts God has provided for leadership in the Church.
The Balance in Church Leadership resource examines how leaders with these gifts tend to approach specific leadership tasks or responsibilities.
(Click on the above links to learn more about each of these resources. Be sure to return to this page to get the bundle for your team of leaders at a great savings.)
Copying Permissions:
You have permission to reproduce up to 25 copies of each resource in this bundle for use with your church leaders or ministry teams when ordering from this page. If you need more than 25 of each manual, simply order additional quantities of the bundle to take you to the amount needed.
 
This material may not, however, be freely distributed beyond your sphere of ministry.
 
You may not put this information in any format that you would sell.
 
You may not copy these resources in whole or in part onto a web site or into any other digital format.
About the Download:
This bundle is available as a download in a zip file with PDFs inside it.
Files must be extracted from the zip file to use them after saving the download to your computer. Many computers will allow you to do that simply by right clicking on the saved file and then choosing 'Extract All'. Be sure to always use the unzipped folder. Adobe Reader is required to open the PDFs.
PLEASE NOTE: Due to the nature of a download, the order cannot be refunded once it is placed.