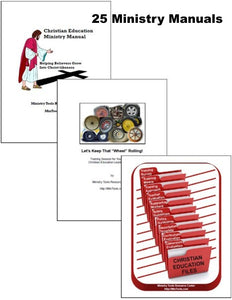 Christian Education Bundle Download with 25 Ministry Manuals
Want to train and equip your church's entire Christian Education Ministry team?
Order the Christian Education Bundle with 25 ministry manuals which includes: 
(Click on title links below to learn more about each resource.)
The Christian Education Ministry Manual, for up to 25 copies, so you gain a big picture perspective of Christian Education in the church based on biblical principles.
 
The Christian Education Leadership Team Training to help get your team on the same page.
 
The Christian Education Files with guidelines and resources to administrate the Christian Education ministry of your church.
 
Each of these resources is sold separately, a total of $76.95, but ordering this bundle will save you over $10.00. 
Copying Permissions
You are permitted to copy and use the Christian Education Files in your ministry, with your Christian Education team, and may not distribute it beyond your immediate sphere of ministry (i.e., your church).
 
You are permitted to make up to 25 copies of the Christian Education Manual when ordering the bundle from this page. If you need more than 25, you can order more manuals in increments of 25. Go to: Christian Education Ministry Manual for Group of up to 25.
 
You are permitted to make copies of the handouts in the Christian Education Leadership Team Training resource.
 
You may not copy this resource in whole or in part onto a web site or into any other digital format.
 
You are not permitted to put this material in any format that would be sold.
About the Download
This bundle is available only as a download in a zip file with PDFs and a PowerPoint file inside of it.
PowerPoint is needed to use the slides file and Adobe Reader is required to open the PDF files.
You will need a means of extracting files from a zip file which, on many computers, can be done simply by right clicking on the saved file and then choosing 'Extract All'. Be sure to always use the unzipped folder.
PLEASE NOTE: Due to the nature of a download, the order cannot be refunded once it is placed.